Mumbai (Maharashtra) [India]: In an exciting collaboration that bridges the worlds of entertainment and fitness, television and film actress Kanchan Awasthi has been named the brand ambassador for Avon Cycles. This move marks a significant step for both Kanchan and Avon Cycles as they join hands to promote health, sustainability, and an active lifestyle.
Avon Cycles, a renowned name in the bicycle industry, has chosen Kanchan Awasthi to be the face of their brand. With her captivating performances in television shows and films, Kanchan has garnered a loyal fan base that resonates with her versatility and charm.
The recent campaign photoshoot featuring Kanchan for Avon Cycles showcases her in various scenarios, riding different models of bicycles, and radiating energy and enthusiasm. The photoshoot captures the essence of a healthy and active lifestyle, aligning perfectly with Avon Cycles' vision.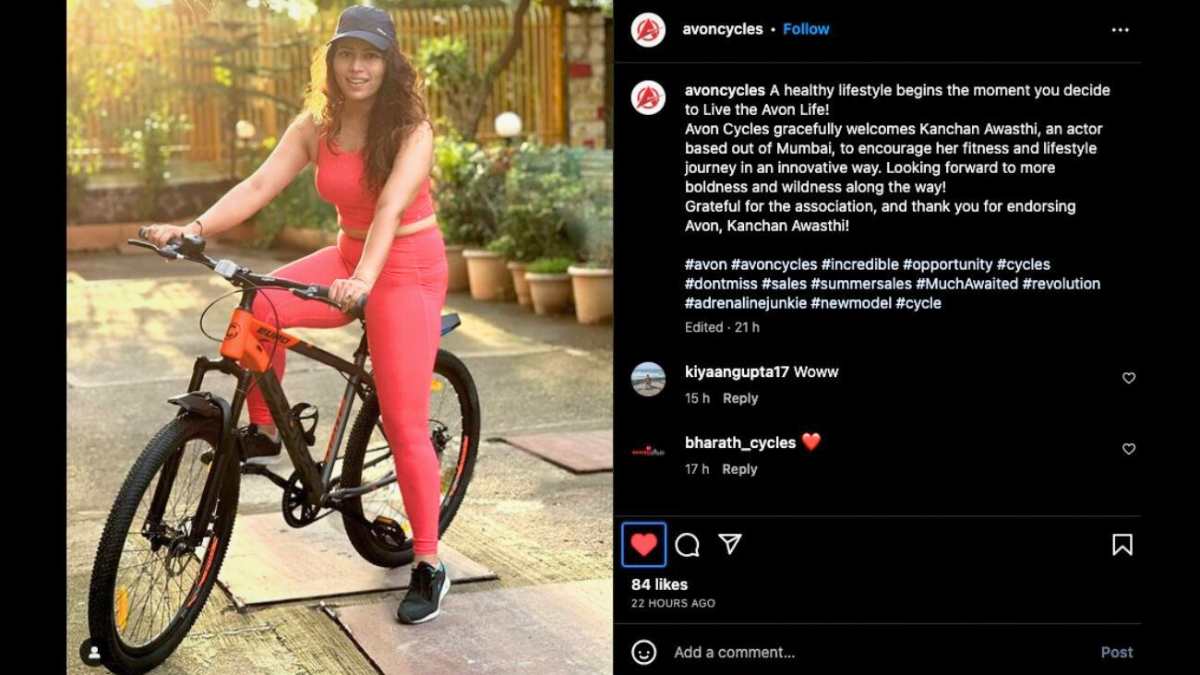 Kanchan Awasthi expressed her excitement about being associated with Avon Cycles in a recent statement: "I am thrilled to be a part of the Avon Cycles family. Bicycles are not only a mode of transportation but also a symbol of freedom, fitness, and sustainability. As someone who believes in leading a healthy and balanced life, this collaboration is close to my heart. I hope to inspire people to embrace cycling as a means to stay fit, contribute to the environment, and enjoy the simple pleasures of life."
The collaboration between Kanchan Awasthi and Avon Cycles holds great promise. It not only underscores the growing trend of celebrities promoting fitness and eco-friendly modes of transport but also sheds light on the positive impact such collaborations can have on society. Avon Cycles, a brand with a legacy of quality and innovation, is taking a forward step by associating with a young and dynamic actress like Kanchan Awasthi. The partnership has the potential to influence a wide audience, encouraging them to adopt cycling as an integral part of their daily lives.
As Kanchan Awasthi takes on the role of brand ambassador for Avon Cycles, she becomes a symbol of health, vitality, and sustainability. Her journey from the silver screen to the cycling trails highlights the seamless blend of entertainment and conscious living. With Kanchan's infectious enthusiasm and Avon Cycles' dedication to creating eco-friendly mobility solutions, this collaboration promises to inspire positive change and healthy choices among individuals and communities alike. (NF/PNN)
If you have any objection, queries or clarification regarding this press release content, please notify us at pr.error.rectification[at]gmail.com. We will respond and rectify the situation within 24 to 48 hours.