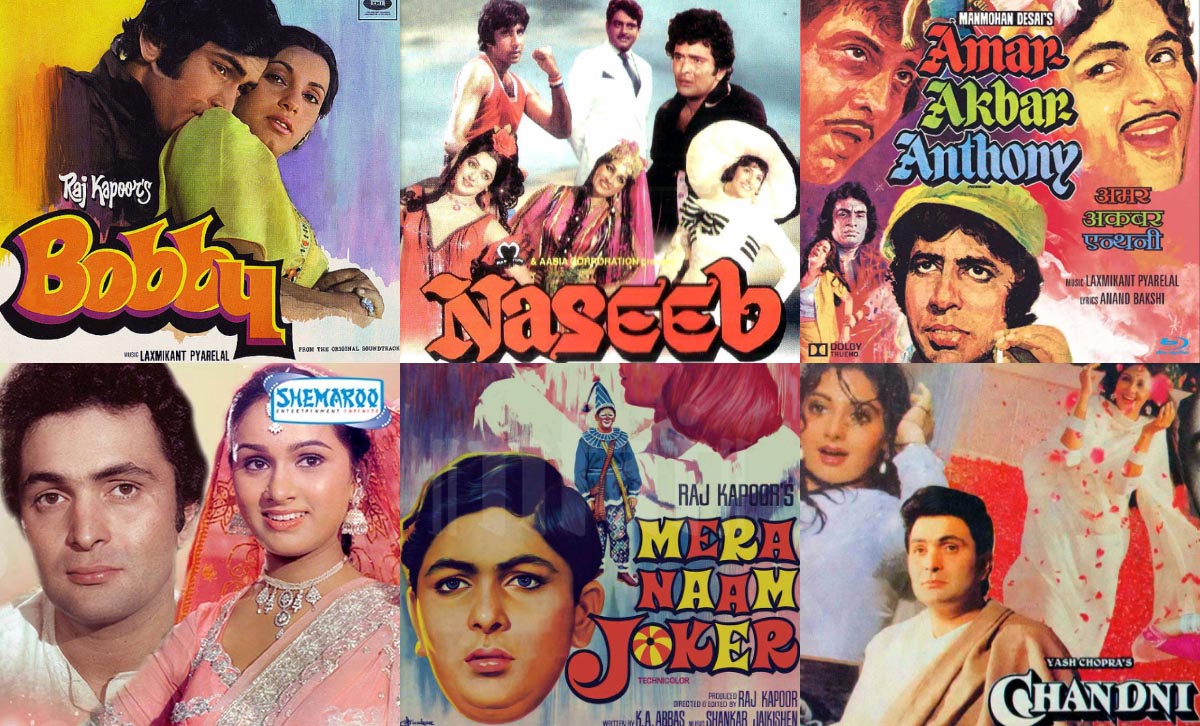 Bollywood PR Dale Bhagwagar lists 6 best Rishi Kapoor movies which amazed the nation
Reeling under the pressure of the Coronovirus lockdown, the demise of veteran actor Rishi Kapoor immensely saddened Bollywood. More so, Rishi's death hit the industry as a twin tragedy, just as it was getting over the grief of actor Irrfan Khan's death.
Remembering the evergreen actor's classics, Bollywood PR Dale Bhagwagar listed 6 of Rishi Kapoor's top movies which took the Indian film industry by storm. "Going through these top Rishi Kapoor classics as a flashback, may serve as a balm on the sad news that has befallen," he wrote on his social media.
1) Amar Akbar Anthony (1977)
The first in the list is Amar Akbar Anthony which was directed by the maverick filmmaker Manmohan Desai. Starring Rishi with Amitabh Bachchan and Vinod Khanna, the film belonged to the drama genre, but could easily be classified as a comedy and a musical.
2) Naseeb (1981)
Another dramatic film which Dale has listed on top is Naseeb, once again starring Rishi with Amitabh Bachchan, this time with Shatrughan Sinha giving them company. This one too was directed by Manmohan Desai.
3) Bobby (1973)
The third movie listed by the Bollywood publicist among Rishi's best, is the actor's first film as a lead star; the cult romantic megahit Bobby, directed by none other than his father Raj Kapoor, co-starring Rishi with Dimple Kapadia.
4) Prem Rog (1982)
Raj Kapoor was the director of two more films listed by Dale as the topmost classics of Rishi Kapoor. One being the dramatic Prem Rog, co-starring Rishi with Padmini Kolhapure.
5) Mera Naam Joker (1970)
The other being the romantic biopic Mera Naam Joker, which was actually Rishi's debut as a child-artist. It released in 1970, three years before Rishi made his debut as a hero in Bobby in 1973. He even received the National Film Award for Best Child Artist for this one. Mera Naam Joker starred Raj Kapoor with Simi Garewal and a host of stars from the film industry. Rishi played the role of an adolescent called Raju, who deals with an infatuation with his teacher Mary, played by Simi Garewal.
6) Chandni (1989)
The final film Dale Bhagwagar lists as one of Rishi Kapoor's greatest classics, is Yash Chopra's movie Chandni, which starred Rishi with Sridevi and Vinod Khanna. Sixteen years after he made his debut as a hero with Dimple in Bobby, Rishi outdid himself as a romantic lead once again in Chandni opposite Sridevi.
"His more recent films like 102 Not Out (2018), Mulk (2018), Kapoor & Sons (2016), Rajma Chawal (2018), The Body (2019) and the reboot of Agneepath (2012) where he starred as a villain, also make credible mentions," wrote Dale. "And not to forget some of the other greats such as Karz (1980), Saagar (1985), Hum Kisise Kum Naheen (1977), Deewana (1992), Damini (1993), Heena (1991), Coolie (1983) and Bol Radha Bol (1992)," Dale added.
What more can we say, but that we have lost a gem of an actor, which Bollywood won't forget forever. Rishi was known as Bollywood's 'evergreen' actor, and now, evergreen he will stay in the memories of all.