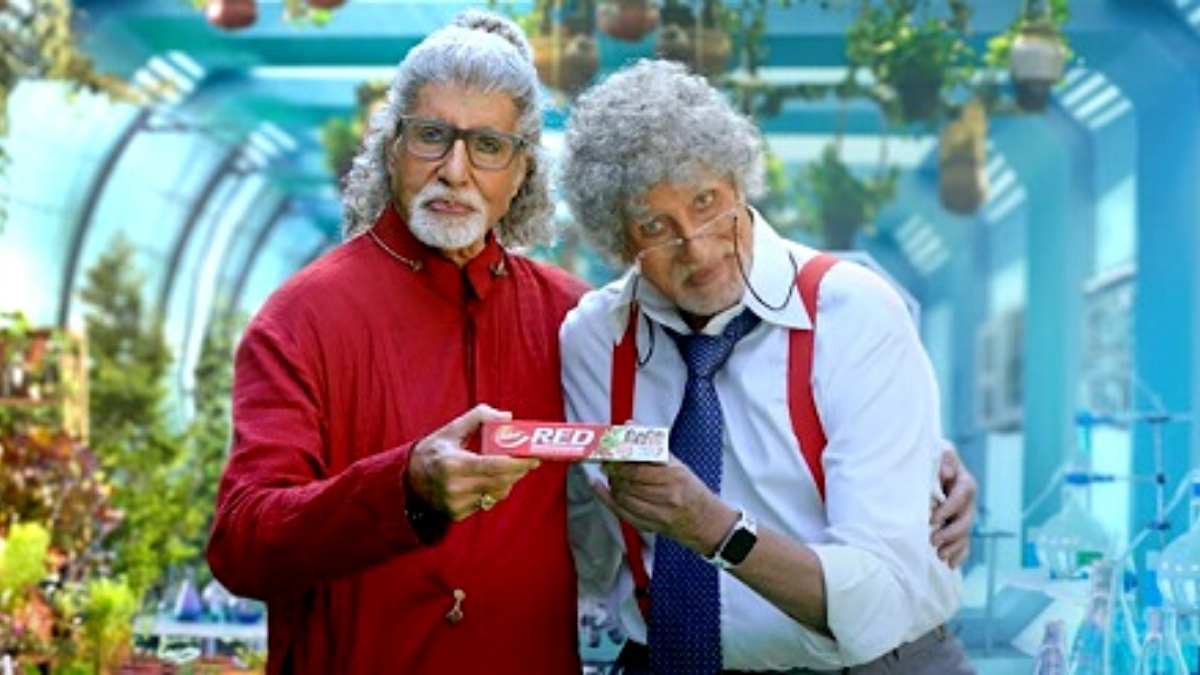 Dabur India signs Amitabh Bachchan as brand ambassador
India's leading science-based ayurveda expert Dabur India Ltd, today signed legendary actor and Bollywood icon Amitabh Bachchan as the new brand ambassador of its flagship Oral Care brand Dabur Red Paste. This comes as a part of Dabur's endeavour to gain more market share and keep the brand at the top of the consumer's mind. The brand has come a long way since its inception in 2003. This new campaign is expected to further strengthen the brand's position.
In this campaign, Mr. Bachchan plays a double role, that of a science man and an ayurveda expert, where he talks about Dabur Red Paste as the perfect blend of modern science and ayurveda. The execution is both humorous and informative as it delivers the core message in a clear and interesting manner.
Mr. Mohit Malhotra, CEO, Dabur India Ltd.: "We are absolutely thrilled to have legendary Bollywood actor Mr. Amitabh Bachchan on board as the new face of Dabur Red Paste. Dabur Red Paste combines the best of traditional Ayurveda and modern-day Science to offer our consumers complete oral hygiene. Mr. Amitabh Bachchan, with his high level of trust, popularity, credibility, and his unique ability to connect with both younger and older generations, perfectly embodies the brand values of Dabur Red Paste. We welcome him to the Dabur family and are confident that this association will further strengthen the brand and help us build a better connect with our consumers."
Mr. Amitabh Bachchan, speaking on the occasion: "I am happy to endorse Dabur Red Paste, a trusted brand from the House of Dabur. We all know the importance of oral hygiene in our health and well being. Dabur Red paste being Ayurvedic toothpaste, with its inherent benefits is the answer to this need."
Piyush Pandey, Chairman of Global Creative & Executive Chairman, Ogilvy India: "Working with Mr. Bachchan has always been an absolute privilege. I'm delighted that we have got an opportunity to collaborate with him for our partners at Dabur. Dabur Red Paste is a much loved Indian brand and has been going from strength to strength. With Mr Bachchan's association, it is sure to soar to new heights."
Mr. Prakash Nair–President & Head of Office, Ogilvy India (North): "The brief was to communicate how Dabur Red Paste uses the power of science to extract the best of ayurveda. And when India's #1 Ayurvedic toothpaste decides to spotlight its efficacy, it is only fair that it is done by someone of stature, someone who the consumers look up to. Thus Mr. Bachchan came on board. The challenge then was to have a script that does justice to both."
Ms. Ritu Sharda, CCO, Ogilvy India (North): "Dabur Red Paste is the best of science and Ayurveda. Since the benefits were two-fold, we got the opportunity to create two different characters for Mr. Bachchan, one as an ayurvedic expert – gyaan and one as a man of science – vigyan. Mr. Bachchan's genius has taken the banter between the two characters to the next level. And we've had the opportunity to show Mr. Bachchan in two never-seen-before avatars. Enjoy the banter as you learn about the amazing benefits of this iconic brand in the most delightful way."